Art is not a thing; it is a way.
Elbert Hubbard
Art is part of the fabric of Native American culture and history. The Sheena V Foundation is committed to supporting the artists that continue that tradition today. We find, cultivate, and feature, individuals who embody the artistic spirit.
If you would like to learn more about our artists programs, please use our contact form.
Sharon McConnell
Featured Artist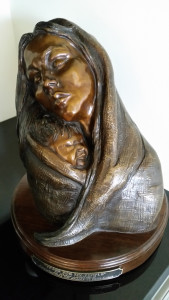 The Indian removel remembrance was a very hard time for the women and children. This young mother shows the love for her child and the concern for her people. I thought this was a fitting piece for the foundation because of the way the times were then and now. I asked God to help me with the perfect name. When I shut my eyes and asked, I got the name right then…."Tears For My People"   To view additional pieces of art from Sharon McConnell  www.sharonmcconnellart.com
To share our appreciation, this bronze will be provided to donors who give $10,000.00 or more
Tears for my People Gallery
Featured Artist